I haven't posted in a while – mostly I've just been tying off loose ends and endlessly reviewing my thesis while I wait for comments.  Alas, the 2 weeks has turned into 4, and scope creep is affecting things, but I think it's finally under control…  at least, that's what I keep saying.  If a batch of samples hadn't been mislabeled by someone in the lab, I probably would have had those loose ends wrapped up today. &@$#ing lab mishaps!
Moving along, I've also had the chance to reflect a bit on my journey through grad school, and I thought I'd share a little graph I'd prepared:  How much time I thought I had left at each point of the journey.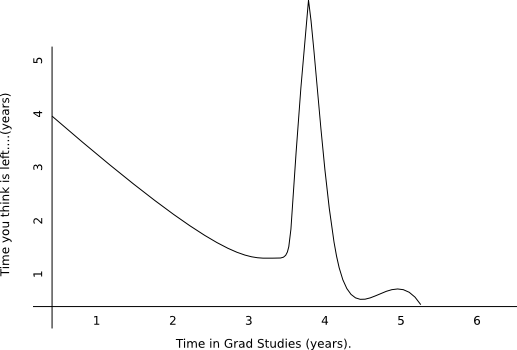 You'll notice several features are prominent.  One is the naive expectation that I could be done in under 4 years.  That lasted for a while, but it started shallowing out… and then the feeling of depression and hopelessness hit, at which you feel you're never going to get out.  Once that passed, I thought I'd be done soon, but that has now dragged on for 9 months and it seems like it might just drag on a bit longer.  I'd debated adding a second spike, as last week I seriously considered just walking away when the latest "one last thing" wasn't working out…
Anyhow, you can also see I'm extrapolating a bit past the five year mark, which I'll have reached in january 2012.
Several lessons can be learned from this:
Timelines mean f@%k-all, because it is not in anyone's interest except your own to graduate. (Cheap trained labour is hard to find and if you don't push, no one else has a reason to push for you to get out.)
Your project will have snags.  Lots of them.  See point #1.
You will encounter frustration and depression.  I'm glad it only hit me once – and yes, you can work through it. For me, it hit when I realized I had no hope of meeting my original timeline – see point #1.
Getting out is also not nearly as smooth as you might think… there's still no one except you who has an interest in seeing you get out quickly – and your university probably won't go out of their way to help. See point #1
There will always be "one more experiment" or "one more validation" to do. You will have to draw a line somewhere, otherwise, see point #1.
I'm sure there are plenty of other lessons as well, which I'll undoubtedly be writing about in future posts, but those are the first few that come to mind this evening.
EDIT: I should probably mention that there have been many people who have helped me, so the above should be a reflection of the institutional lack of interest in your graduation, not of any one particular person.