Unfortunately, not much is open on Boxing day in Aarhus.  It shows up on my calendar as juledag #3, and I've been told its a holiday, so my wife and I spent part of the afternoon at the art museum of Aarhus.  Since my new phone takes pictures, I thought I'd share a few.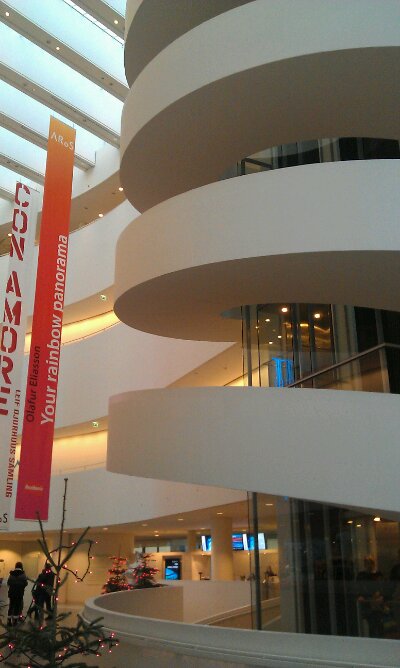 The first is the staircase inside the entrance, which is one of the dominant features of the museum.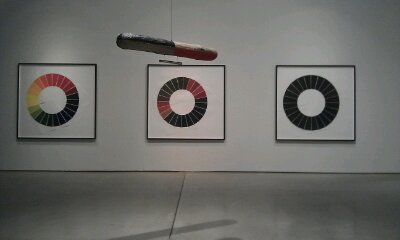 One of the galleries was really quite cool, showing the work of someone who's name I unfortunately can't remember. (I'll look it up later. EDIT: It's Olafur Eliasson). A lot of it was immersing you in colours, including a room that was so full of fog that you couldn't see two feet in front of you.  The mist in the air was then converted to pure colour with strong lights and filters.  All I could think of was that Martin Kryzwinski would have given an arm to have been there. Colour pallets galore!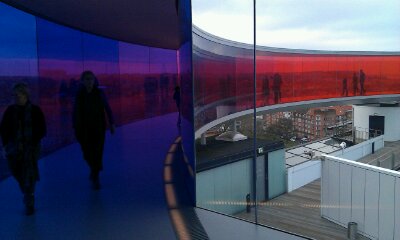 We also saw the famous rainbow gallery on the roof of the museum. My picture doesn't really do it justice.
There was also this display that was hooked up th an observatory somewhere. Every time a star was observed to die somewhere in the universe, it would light up. It was lighting up a few times a second.  Wow. Powerful imagery.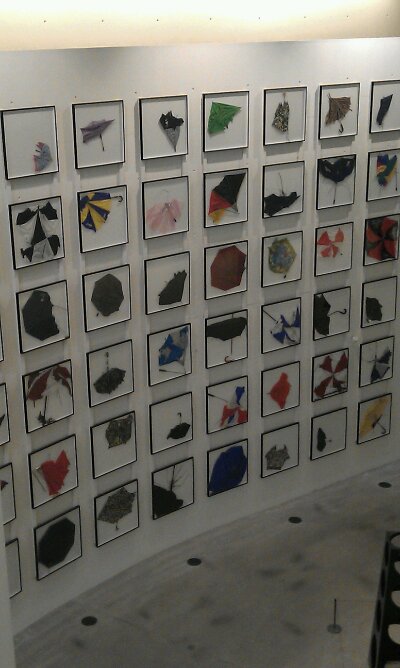 And, who could forget the wall of flattened umbrellas. I did spot a KPMG umbrella in there, which was amusing.
Anyhow, it was a neat way to spend a few hours, but ultimately, it's a nice museum, but not enough to keep me there for more than a small part of the day.
We ended our visit with a pastry at the galley cafe, and then a long walk home to work it off.