I've been slacking in blogging for a while, for good reason.  February was the "hump" month for us.  We hit several major crises all at the same time, but the past week has been a very sudden reversal for us, as things have started to get sorted out, both financially and with respect to our living situation – and of course, now that I finally have some resolution on my thesis defense.  I'll admit, for a while, we were seriously ready to toss in the towel and head back to Canada on the next flight, but I'm pretty sure we'll pull through.  We've been looking at moving to a new house, which will cut our expenses dramatically while moving us out of the suburbs.  (NEVER move to a suburb if you don't have a car!)  Suddenly, our outlook on life in Aarhus has improved dramatically!
Anyhow, with things looking up, I thought I'd share a few pictures from my phone.  Some of them are terrible – but they give you some insight into our world.  I haven't yet pulled out my real camera, but as soon as the temperatures warm up a bit more, I'll get around to it.
The first is the view in the morning from the bus stop, taken back at the start of February, when the sun was just rising when I left the house at 7:45am.  At this point, I've got my bike in working order (for the most part), and the sun is up by 7am.  Not that every day is sunny, but all the snow is gone, and I'm not really out of the house to see sunrises anymore.
The second is a bottle of ginger ale.  You don't know what you'll miss till it's gone – and after three months of searching, we came across this bottle in Germany during a weekend trip with my parents – and we've now found a source closer to home.
Apparently, ginger ale is American, here.  (And I'll my life, I've been drinking Canada Dry…)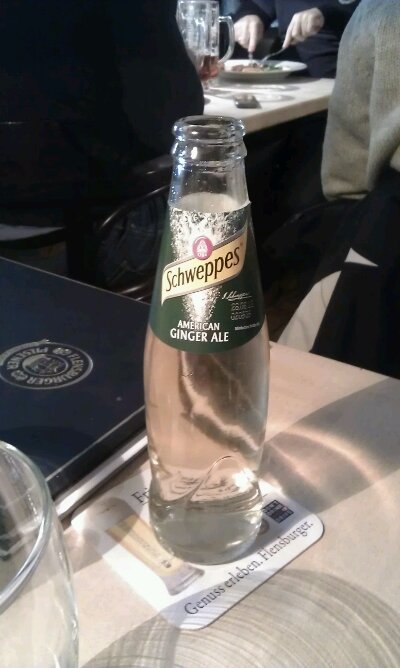 Last weekend, we went for the opening day of the Paradis ice cream shop. (A play on words, as "is" is the danish word for ice cream.  We stood in line in temperatures hovering around 4C, with a 30km/h wind for about an hour to get two scoops of ice cream in a bowl.  It was worth it.  Danes seem to know what they're doing when it comes to ice cream.  It was so good, I forgot to take a picture till we were down to the bottom of the scoop.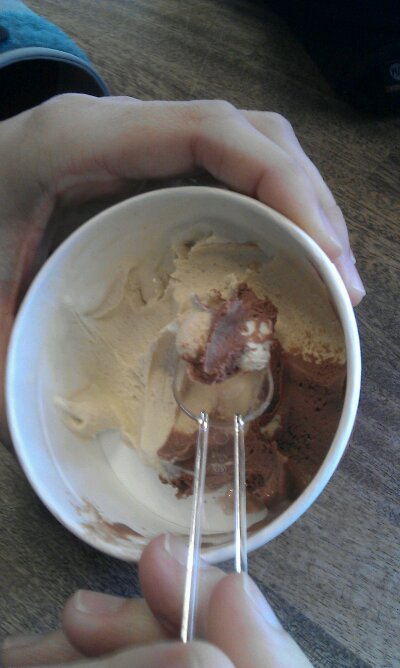 And this is the line – it never really shrunk as it just stayed the same size the whole afternoon.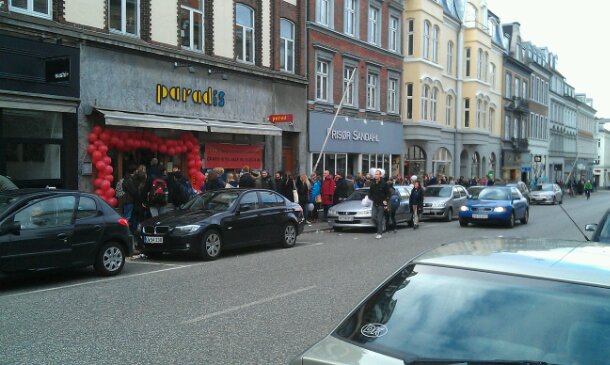 You might find this odd, but this is the parking lot at the grocery store.  Danes seem to be in love with paving stones – and I thought it was a nice "texture" picture.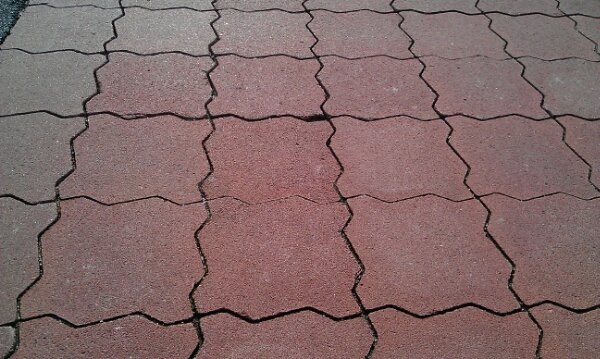 We were at the grocery store on one of the warmest days of the year  – it went up to 14C, and the whole city seemed to be breaking out of it's shell.  In fact, the warm temperatures were supposed to end today, going back to the freezing point again, but somehow, they've stuck around.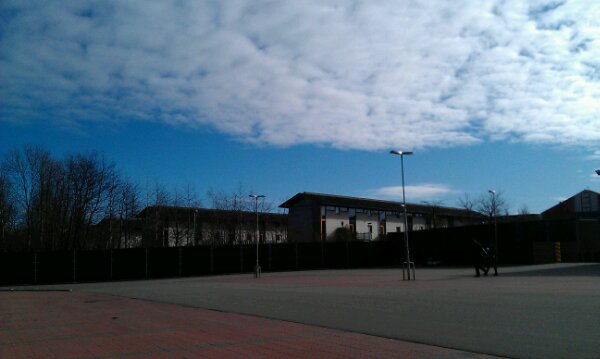 At home, the "death ray" has repeatedly sucked us all in to taking naps in the sun.  The dog even warmed up enough to start panting in the sun.  Fortunately, with the warm weather, we've been able to turn off the heat in the house, and let the sun warm it up.  I really hope our hot water bill goes down a bit.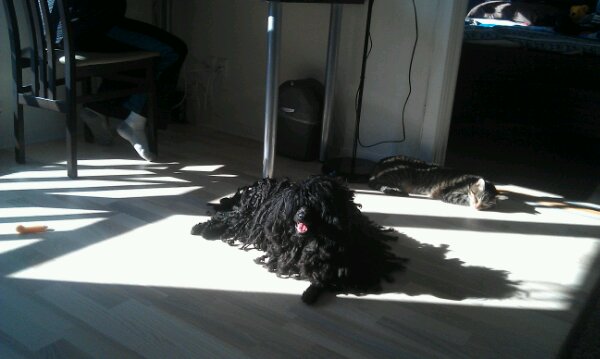 And this is lunch at Ikea.  the $1 hot dog is in the front, and the $2 hot dog is at the back.  Frankly, I don't get either.  The bun on the first one is about half the size of a regular North American bun, and the hot dog is long, skinny and doesn't even fit in it.  Condiments are limited, comprising two types of mustard and one type of ketchup.  The more expensive hot dog is actually made up of a bun with the end cut off, and a circular hole in it, inexplicably called a "French hot dog",  which enables you to fill the cavity with ketchup before putting the thin tube of meat into it.  What you end up with is kind of like a "pig in a blanket", except the ketchup gathers into a pool at the bottom making it soggy and inedible.   Frankly, I don't think I'll trust a Swedish company in Denmark with French food anymore…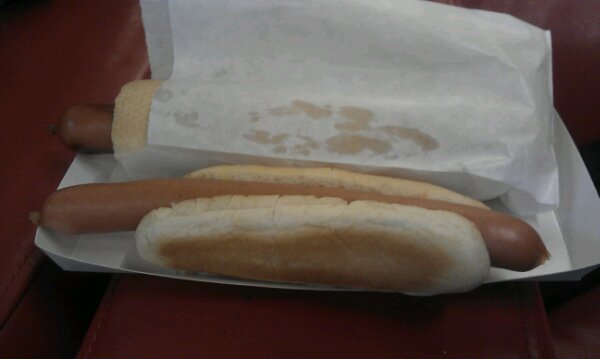 Our current house is situated at one of the higher points of the city – which makes for a long bike ride home from work, but some nice views.  I took this while taking the dog out for a stroll.  Yes, we really do live within 3 minutes of a forest and a farm.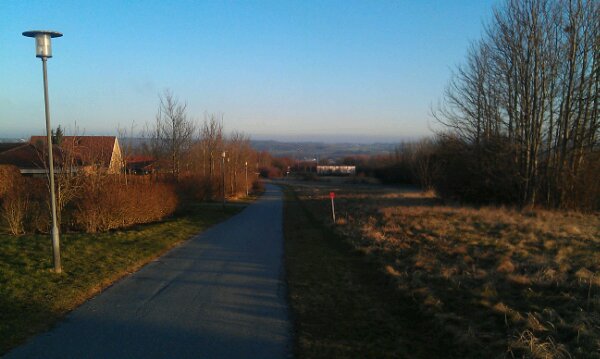 This morning, we decided to go have lunch out. (Dinners here are way to expensive, so once a week, we try to do something out of the house.)  We ended up splurging at Emery's, for our first real lunch out in nearly two months (excepting the misadventure at the pub with my parents, of course.)  They have a relatively expensive brunch special, which comes with a bread buffet, some meat and cheese and sauces.  I'm sure we didn't look at all like Danes eating it, but it hey, no one called the cops on us. The people next to us used their hands too, instead of the usual Danish fetish for cutlery, and they didn't seem to be Canadian.  Either way, they make a wicked hot chocolate.
For the record, the brunch is overpriced on weekends – it's cheaper on weekdays, and the charcuterie platter seems to be similar, but slightly cheaper on the weekends. (-;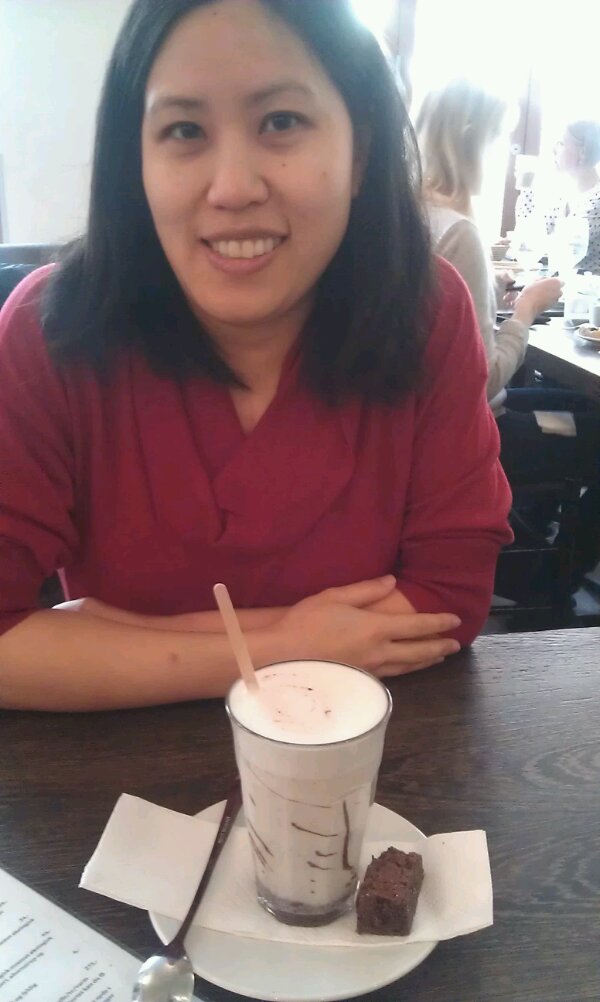 After lunch, we spent part of the afternoon walking around in the cobbled streets, checking things out.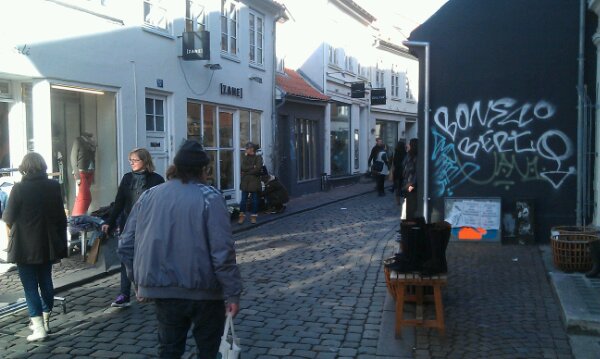 Well, there you are – a quick snapshot of our life in Denmark, with a few of the highs, this time!  I promise that if the weather turns a bit nicer, I'll pull out the real camera and get some decent pictures for next time.