Before I disappear for AGBT, I thought I'd finally get around to writing a quick post about some of the visualization work I've done.  In fact, this is my first shot at interactive visualization – and while I'm not necessarily thrilled with it, it is a neat first try.
The data comes from my Variation Database (which has been accepted for publication – I'll be submitting the final revisions today), and was an attempt to make an interactive method of searching through files that can be in the hundreds of Mb long, without going insane.  The db does produce smaller summary files – which can save your mind from the pit of despair of reading a 300Mb file – but I thought there has to be a better way.
And so there is!  In the live version (for which I have yet to make an example file, but I will do that after AGBT), you can scroll forward and backwards through the "tunnel" of variants, so that it can be obvious as to which libraries variants are found in – or not.  There are some neat examples where you'll see two polymorphisms side by side, but NEVER in the same libraries.  Neat to be able to pick out stuff like that at a glance.
If you go to the location on the web where this script resides (for now), you'll see options for filtering on the side, but in the name of providing an explanation, I'll just give you the static image: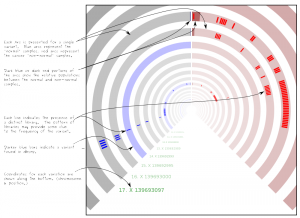 Click on the image to see it in full size.
Obviously, it's just a simple first pass – but hey, I think there's lots of room for improvement, and likely lots of room for innovation.  If only I could find the time to do this stuff more often!
If you're interested, I stared a wiki page for it as part of the VSRAP (here), and the code is also available from the VSRAP svn (here), and of course, all of my code is open source, so feel free to play with it, adapt it for your own, or otherwise.
And now, I have some work to do before AGBT…  see you there!  (or, if you're not there, you can pretend you're there by reading my notes!)  Cheers!