Walking the dog this morning, I remembered another subject I wanted to blog about: Accessibility.  It's something that the Danes appear to be absolutely incompetent about.  I haven't figured out if it's because they genuinely don't realize that it's an issue, or if they just don't care.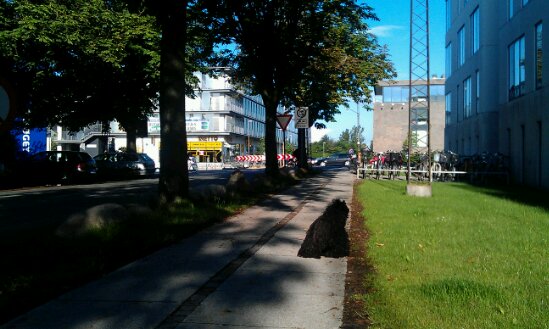 You're probably wondering why there's a picture of my dog on a random sidewalk in this post.  Well, the dog's in the picture just because I figured it would be an even more boring picture without the dog… but if you can get past that, this picture is relevant for a number of reasons.
The first reason is that it shows a typical danish sidewalk, composed of blocks of concrete, with a line of cobblestones down the center.  This particular example of sidewalk is relatively new, and looks pretty flat, but overall, most sidewalks aren't.  The concrete has sharp lips everywhere, the cobblestones stick up and are tripping hazards, and the shoulders are often uneven.  For anyone with difficulties walking, these sidewalks are probably a serious challenge to navigate.  Even worse, many of the walking areas of the city are composed entirely of (highly irregular) cobblestones – which is probably impossible for wheelchair bound people.
Personally, I really notice it with the pram/stroller/baby buggy, as it's just about impossible to walk some of the streets.  But, I opted to buy a small stroller, while most Danes buy $1000 strollers with off-road, all-terrain wheels with proper suspensions.
The second reason why that picture is important is that I have seen someone in a wheelchair try to navigate the corner at the end of the block, where the concrete blocks disappear and switch entirely to cobblestone.  Unfortunately, the small wheels at the front of the chair got stuck in the cobblestones…  Three times.  It was horribly unpleasant to watch, particularly knowing that it will probably happen at every intersection.
The third reason is that the picture is important is that it also shows some construction.  The entire street and sidewalk at the end of the block was ripped up last week, and has since been redone in it's entirety.  Previously, cars were able to cross the intersection where the red signs are, but that's now been altered, forcing cars to turn right at the cross road.  Incidentally, this road is one of the main roads in Aarhus – the inner ring road.
That has my final two points relevant to this topic: both of which speak volumes about how the Danes perceive their environment:
I can no longer cross the intersection here with the stroller, meaning I have to walk around to the nearest lights.  That may have been their intention, but considering that there's a Netto right across the street, this intersection sees a *lot* of foot traffic, some of which has moved along to the new intersection where there are lights.  However, with the new right turn in place, cars are now doing U-turns in batches at the next intersection, which has made crossing there much less safe as well.  Overall, they've done very little to improve the safety.
And the final point – they've done nothing to improve accessibility, despite completely tearing up the intersection and the sidewalks.  They haven't bothered to lower curbs for wheelchairs or to improve the intersection for non-foot traffic.  Instead of an accessible curb, they put in a 20cm wide gob of asphalt as a mini-ramp, which I can assure you is impossible to use with a stroller, because the angle is so steep anyhow.  I can guarantee that if a stroller can't get up some of these curbs, someone in a wheelchair will struggle just as badly.
So, it seems to me that accessibility is just not even on the radar in Aarhus. It's a shame – it's a pretty town, and I've even discovered that cruise ships dock here, but they're making life difficult for their own citizens and throwing away tourism dollars as people with young children or disabilities will struggle to navigate the streets.  What a shame.