Last week, I was away on vacation, capping off my month of not being around much.  And what a month it has been!  The final week of June was spent about as far west as you can get in Canada with a car.  It is, in fact, the western end of the trans-Canada highway.  Which, if I may say so, just kind of ends on a little unobtrusive dock.  Highly unimpressive.
Anyhow, my wife and I convinced my parents to join us out there to enjoy some great food, beaches, scenery and (of course) company.  We all had a great time, and my wife and I even took a surfing lesson on the one least rainy day. (She still has the bruises, but I guarantee I drank more salt-water.)  In any case, I thought I'd post one of my wife's pictures – One of the few times I'll let anyone take my picture, really – I'm far from photogenic.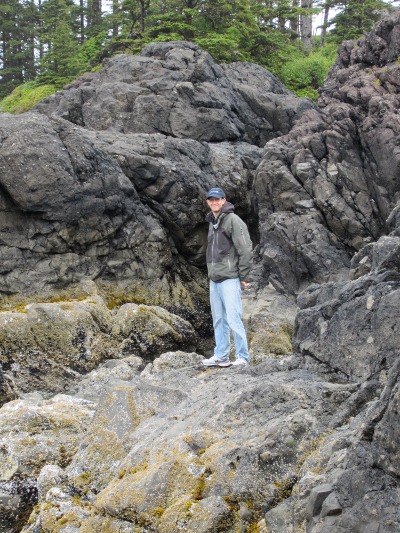 Although you can't tell from the picture, all of the rain gave me the perfect opportunity to show off my Complete Genomics hat.  I'll go out on a limb here and suggest I may have been the only person in Tofino (pop. 1,650) who had the faintest idea what Complete Genomics is, but that isn't quite the point.
Anyhow, with the weather being so un-cooperative, I don't have much in the picture department to show.  I'll just include my favorite of the trip – part of the broken islands.
I'm glad I had the chance to visit Tofino in the summer – it's really a stunning place. Hopefully, one day I'll visit and witness a day when it doesn't rain.
Just to close out, I have two pieces of advice:
Surfing in a wet suit isn't nearly as bad as it sounds – the water is warmer than it looks.
Don't give your kids a DVD player to watch on the road to Tofino, there are a lot of mountain switchbacks, and carsick kids can be messy. (Passed along by a colleague of my wifes, but the advice sounds pretty good!)
Cheers!